"My boy must not be fussed over? On the contrary, he must be cherished, exalted!"
—George to Elizabeth about Valentine
Valentine Warleggan was the younger son of Elizabeth Warleggan. Valentine's true paternity was in doubt, but it would later be found that Ross Poldark was Valentine's true father, rather than George Warleggan, who later found out the truth.
Biography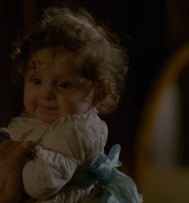 Valentine was born at Trenwith in 1794. His mother slept with her former fiancé, Ross Poldark, a few weeks before her marriage to George Warleggan. Elizabeth had hoped that the child would be George's.
Elizabeth had claimed that Valentine's due date would be later, nine months following her marriage to George. But she worried that if Valentine was born earlier, then George would know the truth.
Elizabeth knew that she was probably bigger than she should be throughout her pregnancy, and that the child's due date was nearer than she hoped it would be. In order to hide the truth, she claimed to have "suddenly fallen down the stairs" and went into labour. Valentine was then born.
The only people who knew Valentine may not be George's son were Elizabeth, Agatha, Ross and Demelza Poldark. George fortunately thought that Valentine looked very similar to him, and brought into the idea that Elizabeth had fell by accident, but other people accepted that Valentine looked very unlike George, and even Geoffrey Charles pointed it out.
In many ways, Valentine looked very similar to Ross and even he accepted that Valentine was probably his child. But Ross was very estranged from the Warleggans and had no dealings with them or want of knowing Valentine. They avoided each other and even though Elizabeth cared for Valentine, she was cold and distant toward him at the beginning. Valentine lived at Warleggan House with the family, but later moved back to Trenwith.
Agatha Poldark would later get into an argument with George, and she told him that Ross was Valentine's true father. George was very upset, and began to change the way he acted toward at Valentine. But in the next few years, Elizabeth appealed to him and he became convinced again that Valentine was a true Warleggan and both George and Elizabeth's attitude towards Valentine changed for the better.
One day, Valentine was running through Trenwith House and found Elizabeth who was talking with Ross, who he had never met. Elizabeth was worried in the beginning, and attempted to tell Valentine to go back to the nanny, but Ross introduced himself. The encounter was short, but Ross acted proud of Valentine and happy to know him.
Valentine accompanied George, Elizabeth and Geoffrey Charles on a holiday. George purchased for him a wooden horse which Valentine loved. A month or so later, Valentine's brother went in the room to join George, Elizabeth and Valentine, and he took one look at Valentine and commented that he had never noticed how much Valentine looked like Ross, leaving Elizabeth gobsmacked and George now knowing that Agatha was indeed telling the truth.
From then on, George became angry and very upset with Elizabeth and began to act very cold towards Valentine.
Notes and sources